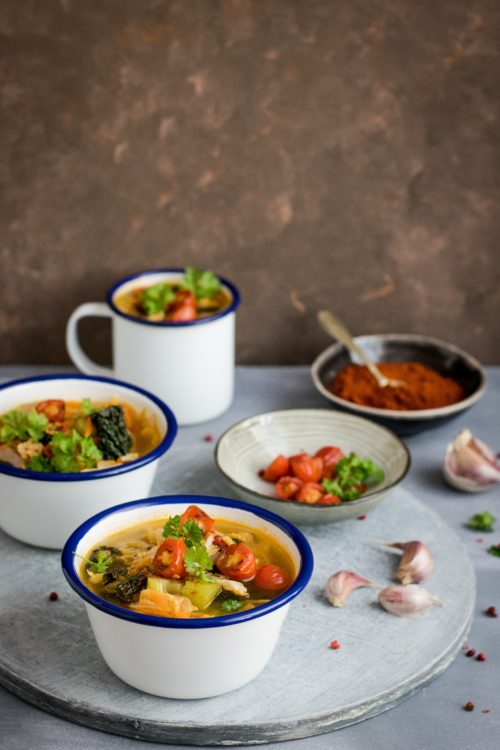 Check out my blog on the Vegan Ketogenic Diet here (plus it has links to other Vegan Keto recipes!)
This delicious vegan keto coconut curry soup is a winner for party nights or for snuggling in and having a cozy evening. It has high fat, moderate protein and low carbs. It is filled with nutritious vegetables and will leave you feeling satisfied.
Vegan Keto Coconut Curry Recipe Specifics
Vegetables

In this recipe are some of my favorite low carb vegetables, however, you can use this recipe to clean out your veggie drawer and substitute your favorite vegetables instead. Cauliflower and mushrooms are two vegetables that are great in this dish. Feel free to get creative. (You can see in the picture above I love to add mushrooms and tomatoes, too).

Curry Paste

This is my favorite curry paste. It's purely spices and goodness!

I eat this soup plain to keep it in vegan keto style, however for any of your guests who are not following that eating plan feel free to serve with a side of brown rice.
Find more of my vegan keto recipes at the bottom of my vegan keto blog here!
Thank you for reading along and pursuing goodness with me.
Xo,
Seyka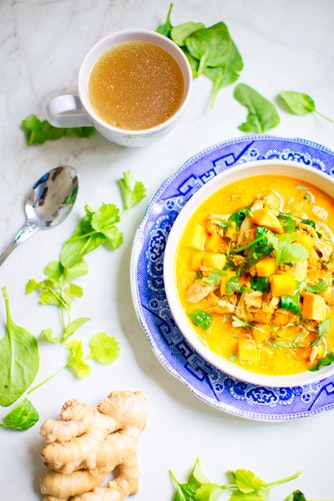 Cut the tofu into 1 square inch cubes or 1/2 inch square cubes. Toss the tofu in Braggs liquid aminos, ginger powder, and garlic powder. Put some cooking oil on a pan, spread the tofu in one layer, and bake in the oven at 350 (F) until the rest of the soup is done.
In a large soup pot sauté the chopped onion, ginger, and garlic until fragrant and the onion is opaque. Add the curry paste and saute until fragrant. Add the coconut milk and the vegetables that are most dense (usually that will be the stalk of the broccoli). Bring to a simmer. Add the pineapple (if you are choosing to add it), liquid aminos, powdered garlic, bok choy, zucchini, and coconut cream. Let the flavors meld while they simmer for 5 - 10 minutes. Taste and adjust flavors to your liking: More liquid aminos to make it more salty, more coconut cream to make it creamier. Mix in the jalapenos if you can handle the heat. Add the tofu bites and mix it all in. Serve with parsely sprinkled on top and a wedge of lemon.